Principal's Desk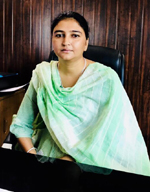 Prabhjit Kaur
There is a separate room for Principal Madam. The door will be opened to meets the needs of students and as well as for staff members at any time in the working hours.
Welcome to our website
Batala Institute of medical sciences is one of the prime Nursing Institutes of the region and the courses offered here are recognized by Punjab Government, Indian Nursing council-New Delhi & Punjab Nurses Registration Council.Our nursing institute has been contributing to the preparation of clinical nurse practitioners, educators and administrators.The Batala Institute of medical sciences was established with a mission to impart the education in the field of para medical sciences. The aim was the overall better development of the individuals and hence for welfare of the society with excellent infrastructure and VALUE BASED EDUCATION.
Presently Medical Centers are highly in derth of trained and well educated Nursing Staff throughout the state, therefore the college is planned for doing pioneering work, in the field of Nursing Education and for imparting professional expertise, to the young aspirants, who will be groomed to dedicated themselves to the service to humanity.
Helpful Links
Partner Links